Another new design! For some reason I can't stop creating, even though I should finish the bags I have already started sewing for my shop. On Saturday the boyfriend and I were shopping at the mall and I just had to duck into the Coach store. Not that I would ever buy a Coach purse (since I have my own designer handbags!) but I like to keep up on current trends.
This visit encouraged me to make the decision to move into the realm of zippered handbags. It's not really that they're any harder since I do zippers on all my bags, but they take more time and it's easier to have 50 snap sets on hand than 50 zippers in different sizes and colors. But, it's a coveted feature that has been requested many times so I thought it was time to offer something where the zipper comes standard.
Now that you know the background, onto the new bag! This is just a prototype, so this particular bag is not for sale. Once I perfect it, it will definitely be going into production though! I am reincarnating the
Chelsea Handbag
with this new look. Although the old version sold, I wasn't very happy with it. I like the new one much better! The general structure is based on
this bag
that I fell in love with at the store.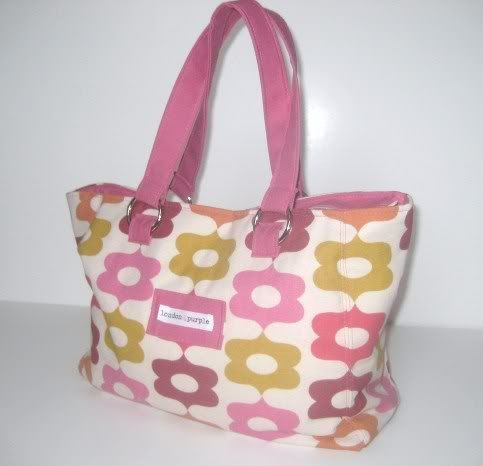 I really enjoyed the seaming detail on the front and also the shape. It has a deep square bottom that flattens out at the top because of the zipper. And doesn't this
Jessica Jones
fabric look great on a bag this shape? I also like the idea of framing my logo in a plain complimentary fabric, it really stands out now. It totally came about accidentally too because I had made a center mark in pen (oops!) and needed to cover it up!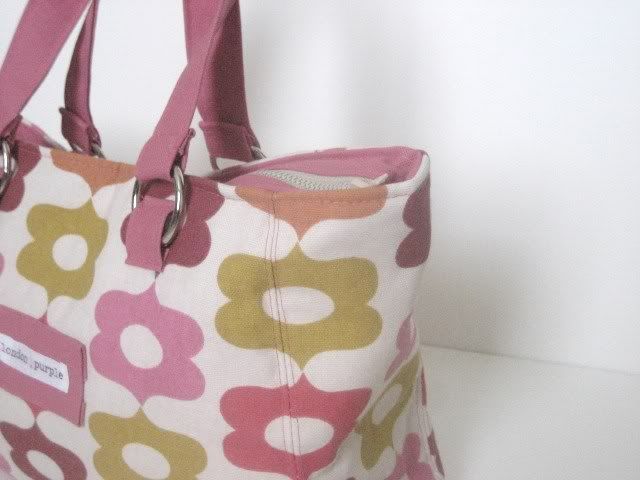 The lining is Purple Stars by
Prints Charming
, from their Two Young Street collection. It is the softest fabric I have ever touched in my entire life! They must use very high quality cotton. I actually found myself running my hand over it while digging for my keys yesterday (even with a pocket
especially
for them I still just toss them in!) before I realized what I was doing.
I can't decide if it's a small or large handbag. I think Goldilocks would say it's just right. My stuff fills it up nicely but there's not a lot of extra room. The measurements are:
15.5" wide at the top, 12" wide at the bottom.
10" tall
4" deep
16" straps
The straps are actually too short to put over my shoulder, so it's just a handbag. The Prototype II that is currently under construction has longer straps. Pictures of the new one will be posted soon! It's made out of the best imitation leather I've ever seen. Hopefully this item will appear in my shop soon!